Pacific ICT Ministers endorse Lagatoi Declaration for an united front
August 29, 2023
The Pacific ICT Ministerial Dialogue on the Lagatoi Declaration, held under the theme "Smart Pacific, One Voice – Creating a Digital Future Together," marked a historic moment as it garnered the signatures of 13 countries/territories in the Pacific region. Stemming from the region's realization of the need for a united front on digital common needs and challenges following the ITU Plenipotentiary Conference 2022 (PP22), this collective commitment signifies a significant step forward for the potentials of having one voice for smart Pacific and ICTs for advanced digital future.
The inaugural dialogue was hosted by the Minister of Information and Communications Technology of Papua New Guinea on 28 August 2023 at the APEC Haus in Port Moresby.
PITA (Pacific Islands Telecommunications Association) strongly supports this concept, recognizing its role in catalyzing the involvement of the private sector and industry groups. PITA's commitment lies in aligning the workings of the declaration with the drivers of sustainable and equitable development and investments for innovations, thereby accelerating the region's technological advancement. PITA further acknowledges the pivotal importance of unity in addressing common needs and challenges — a principle that underpins the very formation of PITA itself by the domiciled telecom organisations in the Pacific. This holistic collaboration, combining the efforts of governments, private entities, and industry associations, solidifies the Pacific's dedication to realizing a future empowered by ICTs.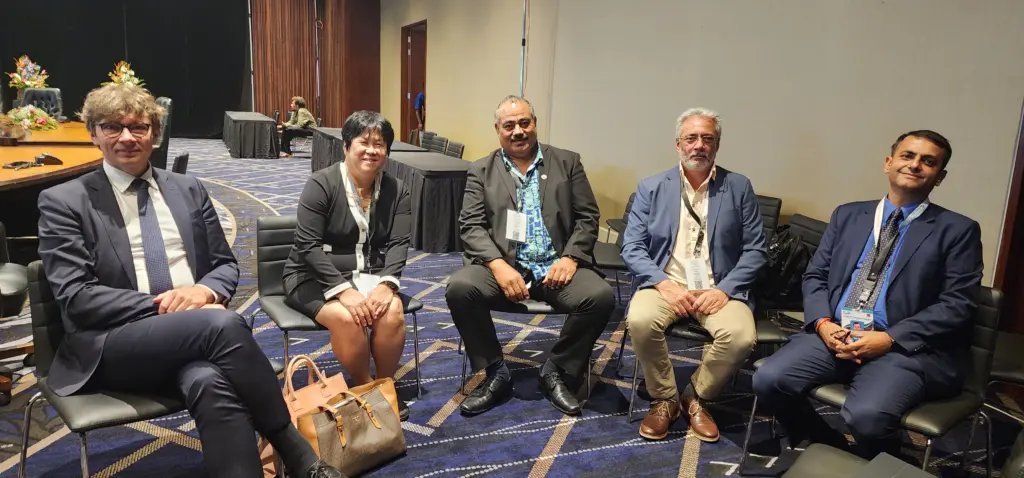 PITA with the ITU Team during one of the side meetings around the ICT Ministerial dialogue
L-R; Deputy Secretary General for ITU, Director ITU ASP, PITA Manager, PITA Vice President, ITU ASP Program Coordinator